Aviry Carroll
Coach
Aviry grew up in Los Angles California & Central Florida. Theatre/Dance was a driving force in her life when she was younger. She went on to teach early childhood education for 12 years and helped open a private elementary school, where she was the school director for four years. During that time, Aviry had a 100-pound weight loss journey.
Aviry moved to NYC to pursue other dreams in theatre and fitness. There, she fell in love with helping others, became a mom, and became a certified personal trainer and group fitness instructor. It has now been 11 years and now she's here at Alpha!
Read More
Favorite thing about AFC: Community.
Favorite week of training at AFC: Intensity.
Favorite station at AFC: DB/Cables.
Song you can expect to hear on their playlist: Many songs with Soul/Hood/Spice.
Go-to cheat meal: Cheat meals aren't my lingo. I love food and I'll have any of this any day of the week - chips, salsa, guacamole, hummus, pizza, tacos & even nachos!!! (Vegan, of course.)
Fun fact: When I was 7, I played the accordion!
Locations:
Aviry Carroll's Upcoming Classes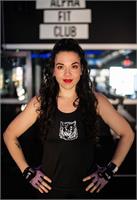 Wolfpack
Aviry Carroll
In Westfield
BOOK NOW